Concrete Boom Pump With Tractor
Max. Pumping capacity (Low pressure/High pressure): 40 m3/h
Max. Concrete pumping pressure (High pressure/ Low pressure): 10 MPa
Distribution valve type: S Valve
Oil Pump: FLUTEK Kawasaki K3V112
Concrete cylinder diameter×stroke: Ф180×1300 mm
Description
Traditional Concrete Boom Pump always has the characters of high cost, occupying large area during operation, etc. FOCUS newly developed Boom Pump with Tractor Head solved these problems.
With 32HP driving power, 4x8.25 tyres, combining concrete pumping and jib swinging mechanism, our new boom pump could be used for small projects very conveniently at much lower cost.
It is the ideal concrete pumping device for buildings under 4-stories, whole machine could be driven back and forth, jibs could be easily stretched up to over 18 meters-price is not even a half of the traditional boom pump.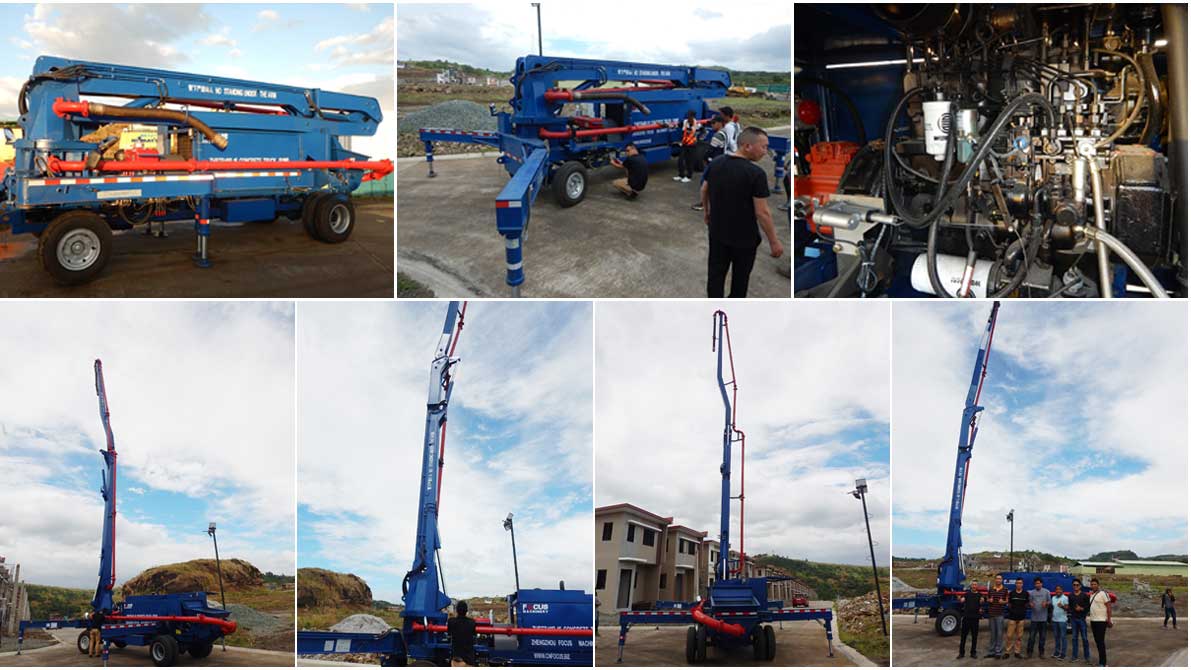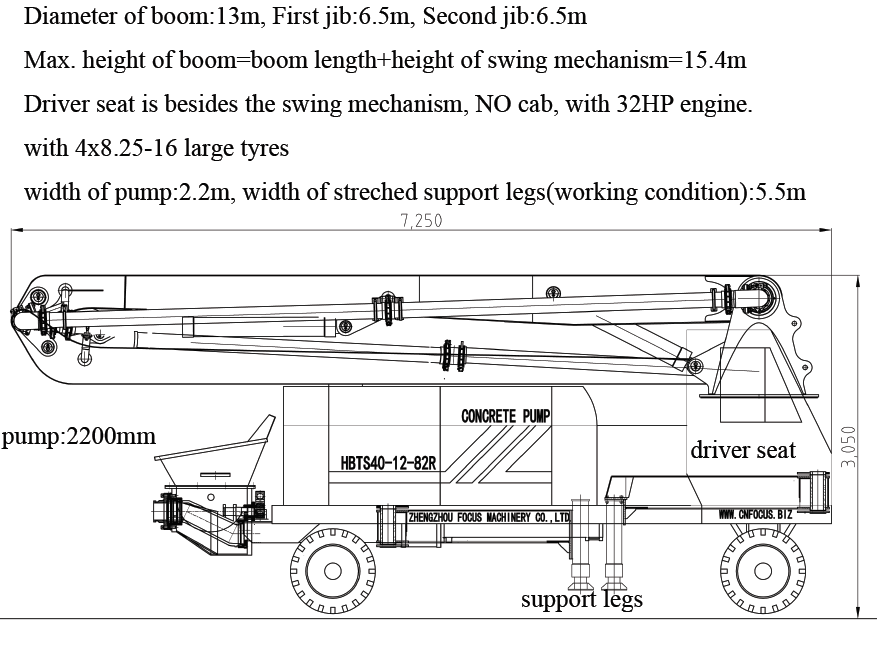 Parameter
Items
Units
Parameters
ZHBTB40R-15
Whole performance of machine
Max. Pumping capacity (Low pressure/High pressure)
m3/h
40
Max. Concrete pumping pressure (High pressure/ Low pressure)
MPa
10
Distribution valve type
 
S Valve
Oil Pump
 
FLUTEK Kawasaki K3V112
Concrete cylinder diameter×stroke
mm
Ф180×1300
Hopper capacity×feeding height
L×mm
500×1300
Max. height of boom
m
15.4
Max. working diameter of boom
m
13
Length of the first jib
m
6.5
Elevation angle of the first jib
°
90
Length of the second jib
m
6.5
Elevation angle of the second jib
°
235
Rotation Angle of Gyration tower
°
200
Rubber hose
mm/m
100*4
Width of stretched support legs
m
5.5
Control method of boom
 
Manual
Outlet diameter
mm
Ф150
Power system
Diesel engine
 
Cummins
Rated power
KW
82
Rotate speed
r/min
2100
Driving system
Diesel engine
 
L32
Rated power
 
32HP
Tyre size
 
8.25-16, 4pcs
Driver cab
 
NO
Hydraulic system
Circuit type
 
Open circuit
Pumping system pressure
MPa
31.5
Mixing system pressure
MPa
6-8
Capacity of oil tank
L
370
Other parameters
Max. aggregate diameter
mm
40
Inside diameter of delivering pipe
mm
Ф100
Dimension:LxWxH
mm
7500x2200x2920
Total weight
kg
6500
Related Products
Get In Touch
If you have any suggestions or opinions about our products, please leave a message, and we will immediately answer your questions. Thanks for your support.