HZS60 Stationary Concrete Batch Plant
Maximum aggregate diameter: 80mm
Aggregate feeding method: Conveyor belt
Aggregate bins volume: 3x12m³
Additive weighing: 40kg ±1%
Productivity: 60m³/h
Total power: 110KW
Total weight: 46T
Description
This belt conveyor concrete batching plant adopts JS1000 twin-shaft concrete mixer or original SICOMA mixer, developed by our company on the basis of world's sophisticated technologies. The sand and gravel feeding system applies inclined belt with great width, maintenance walkways are installed. This plant can be widely used in different kinds of projects, i.e. construction building, roads, water, harbor, power station, bridge, airport, large precast products plants and commercial concrete factories.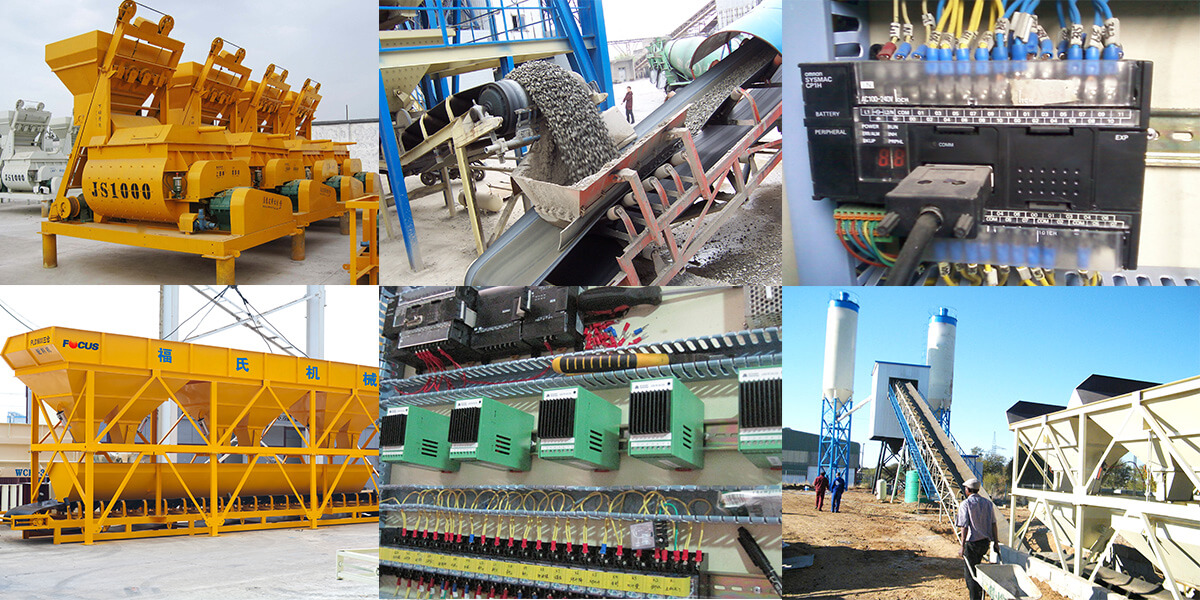 Main features of this concrete batching plant:
01
With its modularized structure, this batching plant has such characteristics as convenient installation/removal, lower manpower cost, etc. All pars of mixing tower are connected by bolts and nuts structure, made of external closed and colorful shaped steel plates, which are anti-noise, anti-dust and heat preserved.
02
This plant adopts PLC automatic logical program control and host computer all-time tracking management, PC+PLC control system ensures highly simple, reliable, human-based intelligent control, facilitates the continuous production. Dynamic display panel makes the operator to monitor precisely each production process.
03
Advanced centralized oil lubricating system, convenient for oil supplying, equipped with overvoltage warning and low oil level warning device, safe and reliable.
04
The aggregates are conveyed into the hopper by inclined angle ≤20°belt conveyor, with gravity tension device or by trough belt conveyor to save space.
05
Twin-shaft FOCUS mixer is famous for its high efficiency, lower energy consumption, durable and heavy duty performance.
06
Heating system and ice plant could be adopted into this plant in severely cold and hot environments.
07
Closed structure design, closed aggregates conveyor, and external 360°lighting allow all weather operation.
08
World famous weighing sensor brand and high performance pneumatic elements to ensure precise metering and rapid response.
Parameter
| | |
| --- | --- |
| Type | HZS60 |
| Productivity in theory | 60m³/h |
| Mixer | JS1000 |
| Total power | 110KW |
| Maximum aggregate diameter | 80mm |
| Aggregate feeding method | Conveyor belt |
| Aggregate bins volume | 3x12m³ |
| Aggregate weighing | 3000kg ±2% |
| Cement weighing | 600kg ±1% |
| Fly-ash weighing | 400kg ±1% |
| Water weighing | 400kg ±1% |
| Additive weighing | 40kg ±1% |
| Discharging height | 3.8m-4.1m |
| Overall dimension (during operating) (LXWXH) | 33.8mX14.8mX11.8m |
| Total weight | 46T |
| Control | Fully automatic central plus manual control |
| Cement silo(optional) | On request |
| Cement screw(optional) | On request |
Be Noted:
1. Please ask detailed configuration from our sales reps.
2. The power figure doesn't include the power of cement silo and screw;
3. Non-standard design could be made according to clients' demand;
4. The above-mentioned data could be changed due to the technical&design upgrade, please check the updated parameter when purchasing.

Related Products
Get In Touch
If you have any suggestions or opinions about our products, please leave a message, and we will immediately answer your questions. Thanks for your support.