HZS150\180 Stationary Concrete Batch Plant
Maximum aggregate diameter: 80mm
Aggregate feeding method: Conveyor belt
Aggregate bins volume: 4x18m³
Additive weighing: 2x4000kg ±2%
Productivity: 180m³/h
Total power: 205KW
Total weight: 77T
Description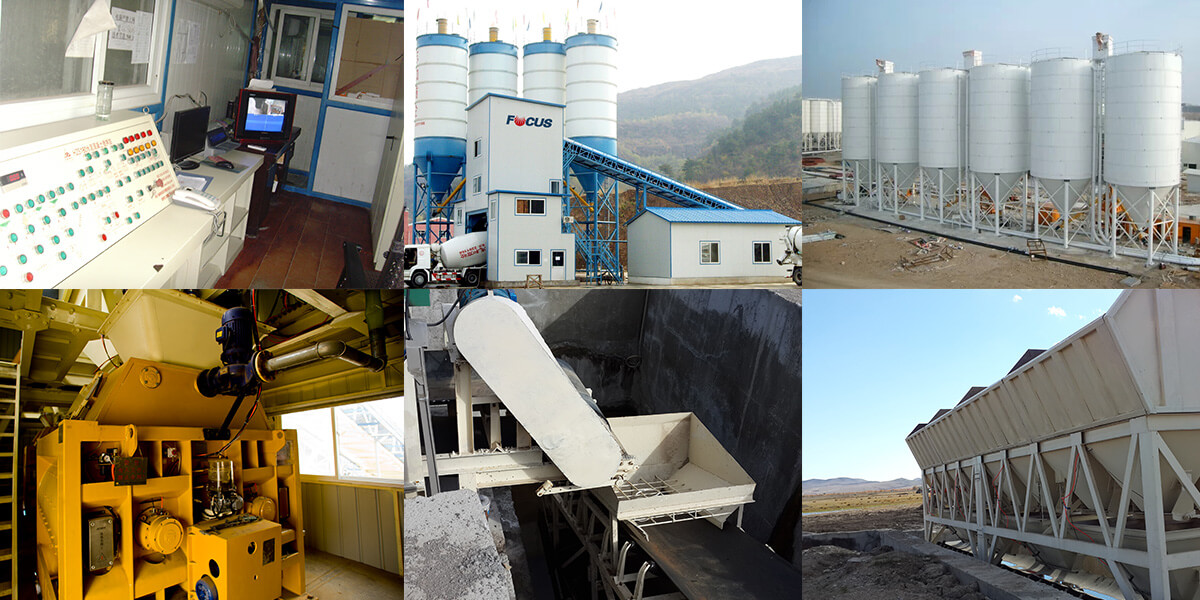 Mainframe processing advanced tech. handles multi-sealed shaft-end.
Automatic lubricating system, fixed point, time and quantity, easy op.
Planetary reducer, efficient transmission, compact structure
Discharging door adopts top brand hydraulic system to drive and has adjustable opening. It's equipped with manual pump in case of emergency.
Main tower dust-removal device, excellent environmental protection, friendly and anti-noise designed.
Accurate water and additives weighing, pneumatic valve adopted, measuring tank is made of stainless steel.
Belt conveyor environmental device. All powder materials are in closed state during delivering, measuring, and putting-in. Main tower is equipped dust-exhauster/remover and wind blower while belt conveyor is with outer package and charge chute.
Low-position batcher
High-position batcher
Each and every aggregate is weighed individually or accumulatively, and the weighing accuracy is guaranteed. The accuracy of aggregates proportional ratio is realized through computer control system, which automatically re-feeds the aggregates if there is shortage of weight, warns if there is overweight.
Automatic combined with manual control, easy operation; Dynamic display of the production process, and monitoring in real time; Saving of the data of production perimeters in the computer, printing of the daily, monthly, and yearly statistic reports of production; The operators, with the assistance of safety monitoring system, will know and monitor the running situations of the mixing plant in the control room; The control room, which is made of colorful shaped steel plates, is spacious, anti-noise and heat insulated, it guarantees the working temperature of the electrical components, also improves the working comfortability.
Twin-shaft mixer has the strong mixing ability with uniform mixing and high production output, reliable shaft end tech+high wear-resisting lining plate, paddles, arms and blade, long service life; Double discharging way, hydraulic gate assembly can be adjusted accordingly.
Parameter
| | |
| --- | --- |
| Type | HZS180 |
| Productivity in theory | 180m³/h |
| Mixer | JS3000 |
| Total power | 205KW |
| Maximum aggregate diameter | 80mm |
| Aggregate feeding method | Conveyor belt |
| Aggregate bins volume | 4x18m³ |
| Aggregate weighing | 2x4000kg ±2% |
| Cement weighing | 1800kg ±1% |
| Fly-ash weighing | 800kg ±1% |
| Water weighing | 800kg ±1% |
| Additive weighing | 50kg ±1% |
| Discharging height | 3.8m |
| Overall dimension(during operating) (LXWXH) | 58.5mX7mX19.4m |
| Total weight | 77T |
| Control | Fully automatic central plus manual control |
| Cement silo(optional) | On request |
| Cement screw(optional) | On request |
Please note:
1. The total power doesn't include the power of cement silo and screw;
2. Non-standard design could be made according to clients' demand;
3. The above-mentioned data could be changed due to technical&design upgrade, please check the updated configuration when purchasing.

Related Products
Get In Touch
If you have any suggestions or opinions about our products, please leave a message, and we will immediately answer your questions. Thanks for your support.