HZS50 Compact Concrete Batch Plant
Maximum aggregate diameter: 80mm
Aggregate feeding method: Skip hopper
Aggregate bins volume: 3x9m³
Additive weighing: 2500kg ±2%
Productivity: 50m³/h
Total power: 80KW
Total weight: 35T
Description
As model HZS60, this skip hoist type concrete mixing plant adopts JS1000 twin-shaft concrete mixer, is a new type of compact-structured mixing plant with very small occupation of ground area. Although it's compacted design, the host mixer is capable enough to produce evenly proportional concrete in very efficient way, so this plant is very popular in various construction projects like precast yard, different kinds of buildings, roads, bridges and even commodity ready-mixed factories.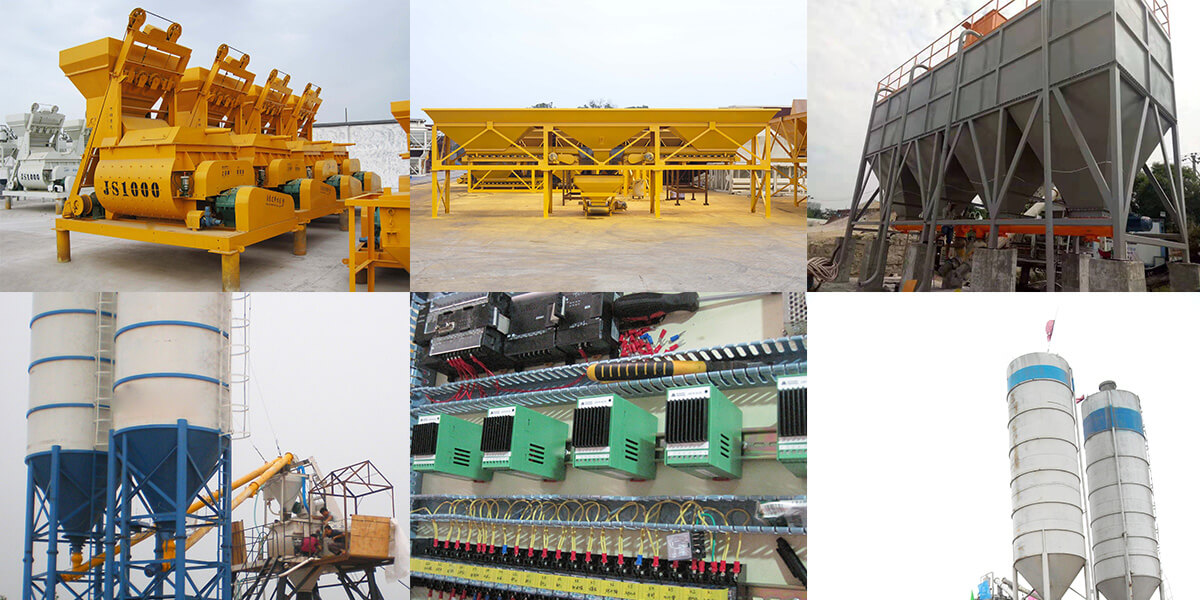 Main features of this concrete mixing plant:
01
With its lifting hopper feeding and modularized structure, this concrete plant has such characteristics as convenient installation/removal, lower manpower cost, easier to operate, convenient and simple to maintain, fewer to invest and need fewer place, etc.
02
Unique lifting mechanism, start and stop smoothly, long service life of steel wire rope.
03
Lifting system has multi-safty devices like loose rope, exceed limit position and fall-down protection.
04
JS1000 mixer adopts special steel material, streamlined design, improve the mixing efficiency greatly; Shaft end is with multiple rubber seal, floating seal, pneumatic seal and high hardness wear resistant materials; Advanced hydraulic drive, manual dual mode, safe and reliable operation.
05
Full automatic control (central computer+PLC) and semi-auto control(with metering control console) can be chosen, the latter one cost lower budget, both of them have control cabin with AC, electrical panels, etc.
06
Heating system and ice plant could be adopted into this plant in severely cold and hot environments.
07
Cement silos can be fabricated in pieces for convenient container transport, after arriving clients' construction site, the silo could be connected by bolts and other materials as a whole piece.
08
Electrical components are all world famous brand, could work for long time, convenient to operate, maintain and replace. Full auto control applies the latest design for electronic weighing, computer control and digital display. The electronic dosing system has a buffer device and automatic volume compensation with high meter precision.
Parameter
| | |
| --- | --- |
| Type | HZS50 |
| Productivity in theory | 50m³/h |
| Mixer | JS1000 |
| Total power | 80KW |
| Maximum aggregate diameter | 80mm |
| Aggregate feeding method | Skip hopper |
| Aggregate bins volume | 3x9m³ |
| Aggregate weighing | 2500kg ±2% |
| Cement weighing | 500kg ±1% |
| Fly-ash weighing | 300kg ±1% |
| Water weighing | 300kg ±1% |
| Additive weighing | 40kg ±1% |
| Discharging height | 3.8m-4.1m |
| Overall dimension(during operating) (LXWXH) | 20.5mX7.5mX11.8m |
| Total weight | 35T |
| Control | Fully automatic central or semi auto |
| Cement silo(optional) | On request |
| Cement screw(optional) | On request |
Be noted:
1. Please ask detailed configuration from our sales reps;
2.The power figure doesn't include the power of cement silo and screw;
3.Non-standard design could be made according to clients' demand;
4.The above-mentioned data could be changed due to the technical&design upgrade, please check the updated parameter when purchasing.

Related Products
Get In Touch
If you have any suggestions or opinions about our products, please leave a message, and we will immediately answer your questions. Thanks for your support.